ST185 CS restoration and full rebuild
Although this project is currently on hold due to my other big project (restoration and full rebuild of a house), I decided to make a start with the build thread anyway.
Ever since watching WRC on TV as a kid in the early nineties, I have been a big fan of the ST185 series Toyota Celica GT-Four. I set myself a goal that one day, I had to buy one. After getting my driver license, it turned out not to be financially viable, so I bought a wide body ST182 (FF, 2.0L n/a 3S-GE) as my first car instead. Two years later I had saved more money and couldn't stop looking for Carlos Sainz limited edition ST185s anymore, so I sold the ST182.
Being a perfectionist, it took over a year to find the right car with 'low' mileage, no serious damage and even more important (to me): the factory supplied limited edition plaque and certificate. One night in August 2005, while checking the car sales websites, it popped up: CS 2433. A late built (February 92) Carlos Sainz in 3E5 Super red. Bone stock with leather interior, sunroof and 123,000 km on the odometer: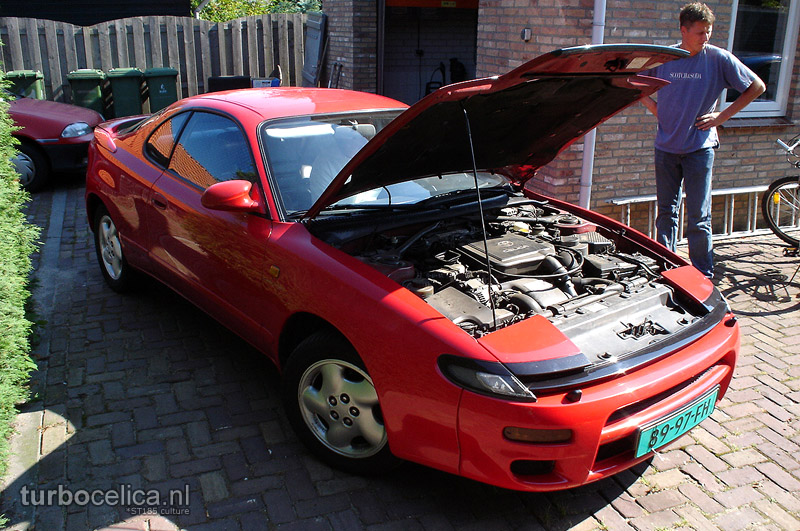 With help of a good friend of mine, who was able to check/test drive the car out straight after work, I decided to go for it. Funny fact; the day between my mate checking it out and me buying it, some other guys went to check it out as well. Both of them are now good friends, also driving GT-Fours!
After buying the car, I started to look for upgrades and tried to use the best (sometimes rare, but period correct) parts I could afford in order to improve the cars capabilities and handling. Five years later, it looked like this: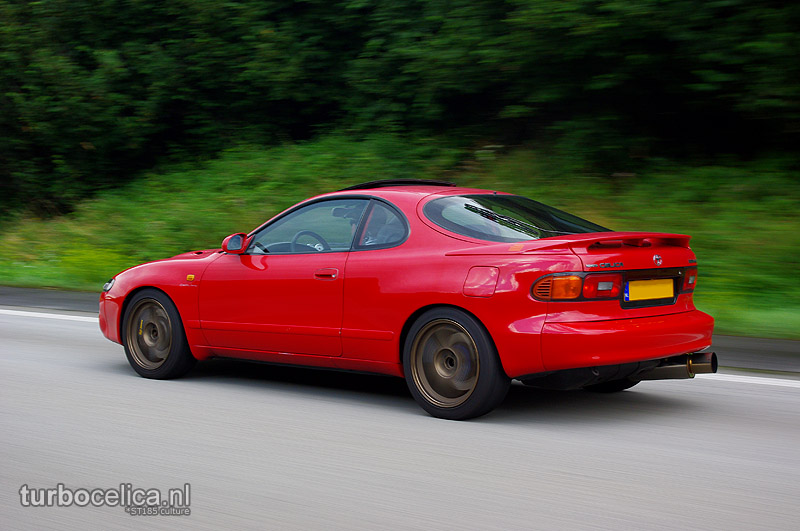 TEIN suspension with EDFC damping control, AP Racing front/ST205 rear brakes, RAYS Volk Racing T37 wheels, HKS exhaust.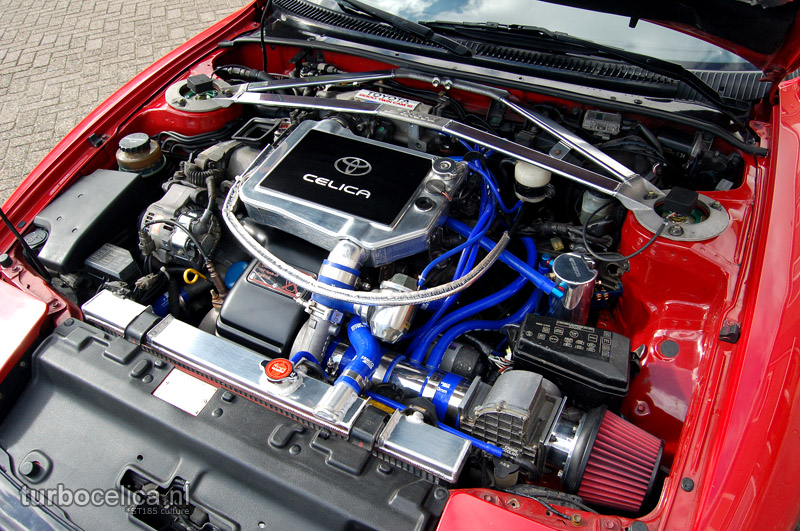 BPU (intake, exhaust, boost, cooling) engine with several parts polished, ORC racing clutch/flywheel.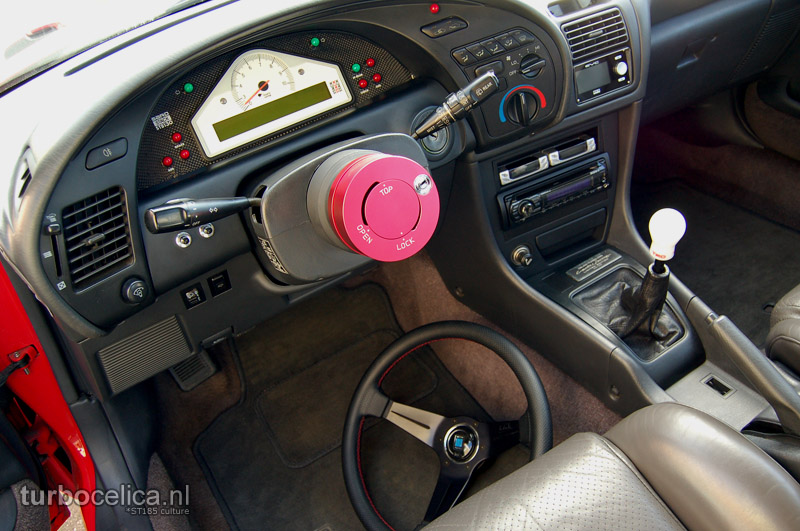 STACK race dash display, Works Bell snap off hub with Nardi wheel, HKS electronics, several C-ONE braces, SARD battery box.
These modifications made the car a lot more nimble, thus increasing the fun factor. Besides local/national events, I took the car to some events in the UK, the renowned Swiss GT-Four meeting (as part of a
road trip through Europe
) and the WRC in Germany. The car also went back to its roots – the former Toyota Team Europe HQ (now Toyota Motorsport GmbH, TMG) in Cologne, Germany. After all, the Carlos Sainz model was developed as homologation model for TTE's weapon of choice in the 1992 WRC: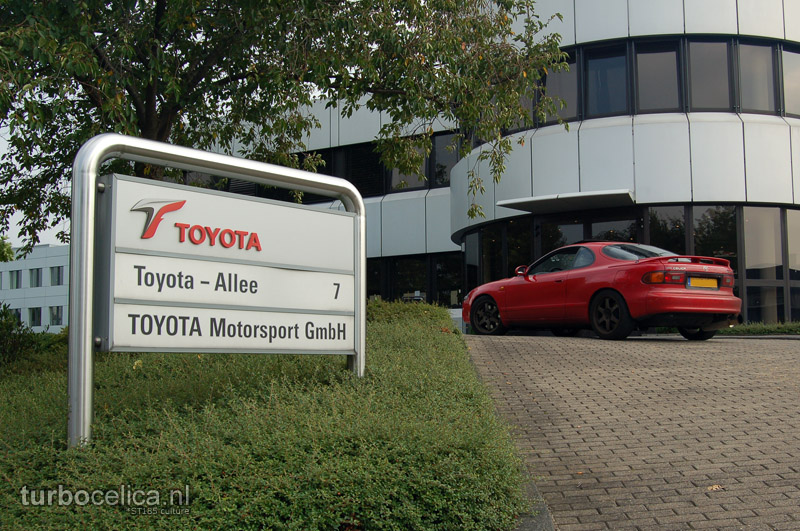 At this point, the car was almost 20 years old. And although still going strong, there were some things that bugged me (some of them since the purchase, to be honest). The sunroof for instance. Not only does it weigh a fair bit, it also takes up headroom (I'm over 1.90 m) and more importantly, it causes a common problem with these cars: rust. Water enters the sunroof assembly and is drained by tubes on the four corners of the roof. The tubes go down the A and C pillars but with the sill drainage often clogged up over the years, the sills and rear fenders eventually start to rust.
On top of that, previous owners didn't treat the paint too well. So my 3E5 Super red was super pink on most horizontal panels. Also, my passenger side sill was dented. Function > form, but a respray certainly was on the wish list was well. Functional doesn't have to look crap.
All this didn't stop me from driving and tracking my car though, so in went an Autronic ECU to replace the outdated factory fuel control system. In pursuit of more power and better handling, I finally decided it was time to do it properly and rebuild the car from the ground up. In order to enjoy this car for years to come this meant a complete restoration, really. And while restoring it, I can improve/reinforce everything I want from chassis to engine. So after having saved up funds to get the ball rolling in 2010, I went one last time to the 'Ring and took Carlos off the road again for 'some maintenance'. Only this time I'm going ballistic, lol.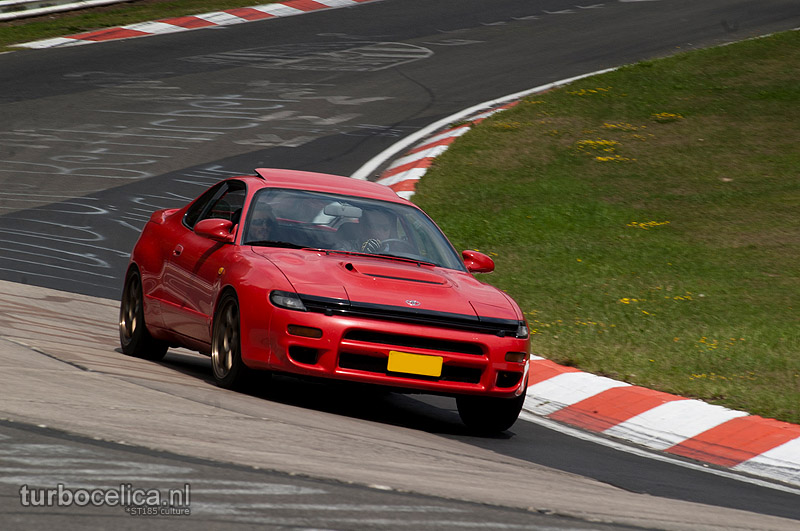 But shortly after I started stripping the chassis,
Erik Wevers
contacted me. "Would you be interested in an ex-TTE grp A ST185 chassis?"
Err.. What?
"An ex Toyota Team Europe works Group A8 ST185 chassis. Like this: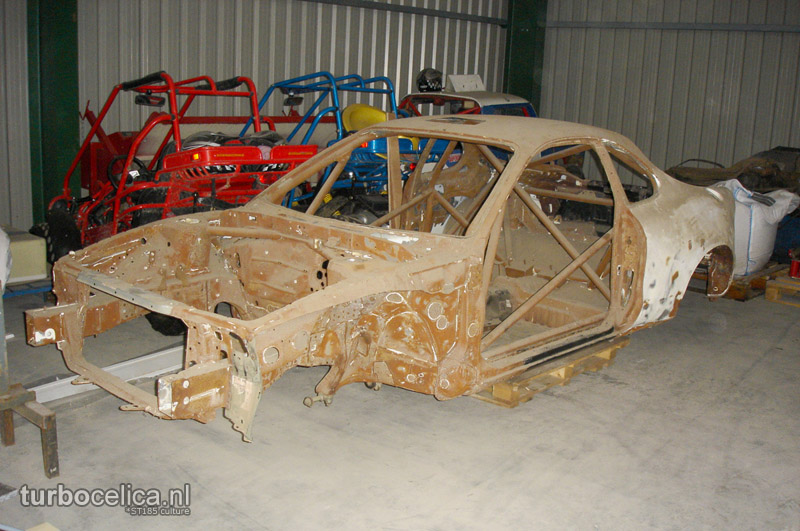 Don't worry about the surface rust, we can blast and paint it for you."
Wow.. Dilemma. A serious one. A genuine ex TTE 185 is as good as it gets in my book. Owning one has been a dream for years. And I could afford this one. It's a perfect base for a proper build. But being a true enthusiast and fulltime perfectionist, there is no way in hell I would ruin a TTE chassis with non TTE, non period correct parts. No half-ass replica for me. So that would mean buying an entire grp A car, in parts. In very, VERY expensive parts (15k euro turbo anyone?). Which, for me, at this point in life, is impossible. Plus, where do I leave another car? I haven't got the space - it would realistically mean I'd have to get rid of my Carlos Sainz.
I decided to pass on the TTE chassis and keep my car. After all, it's the car I have a love/hate relationship with for five years now. You can't simply throw that away, right? I've had so much fun with it and there is much more to come! Maybe one day I'll be fortunate enough to buy another ex TTE 185, who knows..