---
Just realised I hadn't updated this in a while so here goes......

A while ago I managed to get my hands on a couple more Defi gauges at a decent price (£50 each!), water temp and oil temp. So currently have boost, oil pressure and oil temp installed in the triple RT-Performance gauge pod, the water temp will have to wait until I manage to find a matching RT-Performance single gauge pod, can anyone help?




My customized centre console was getting a bit scruffy and the fibreglass was cracking where it has been removed and refitted lots of times. I no longer needed the boost controller due to the Motec and decided I could also do away with the Defi digital display as I have enough gauges now, so I decided to take off the surround and re-do it.

I scrapped the old one and started again with another centre console as the only gadget to fit now was the Defi controller. I painted these in Halfords "Appliance White" as its brighter than the Nissan white I previously used which was quite creamy, and a couple of coats of lacquer.

I decided as I had more space in the dash now I'd invest in a new double din stereo that would link to my iPhone and also perform sat nav duties. I ended up finding a Pioneer SPH-DA02 App Radio brand new on ebay for £180 so thought I'd give that a go as it seemed great value. Its designed to use the phone apps through the head unit, so you use sat nav apps etc to add features to the radio. Also has hands free calling with a proper microphone which is useful. I have now wired it in so that the plug for the iPhone is tucked away in the centre arm rest cubby hole out of the way.




I also installed my clocks with Spree white LED light kit, brushed dial surrounds and red needles to match the Defi gauges as close as possible - looks pretty good, although I am a little disappointed they are still not as bright white as the Defi's and they still light up slightly yellowy in colour which I think must be due to the filters in the dial faces. I might see if Mook can make me some new faces that have clear/white filters and a font that matches the Defi's.




My old suede wheel was getting worse for wear and alot of the suede had worn smooth, plus it didn't really go with the colour scheme, so a few months back I bought a cheap leather deep dish wheel with white stitching off ebay. Unfortunately it says "DRIFTING" on it which is a bit *bleep* but it was cheap and looks OK with the rest of the interior. I plan to upgrade this to something a little more classy in future, would Like a Nardi deep corn.

So here is a few pics of the interior as it currently sits: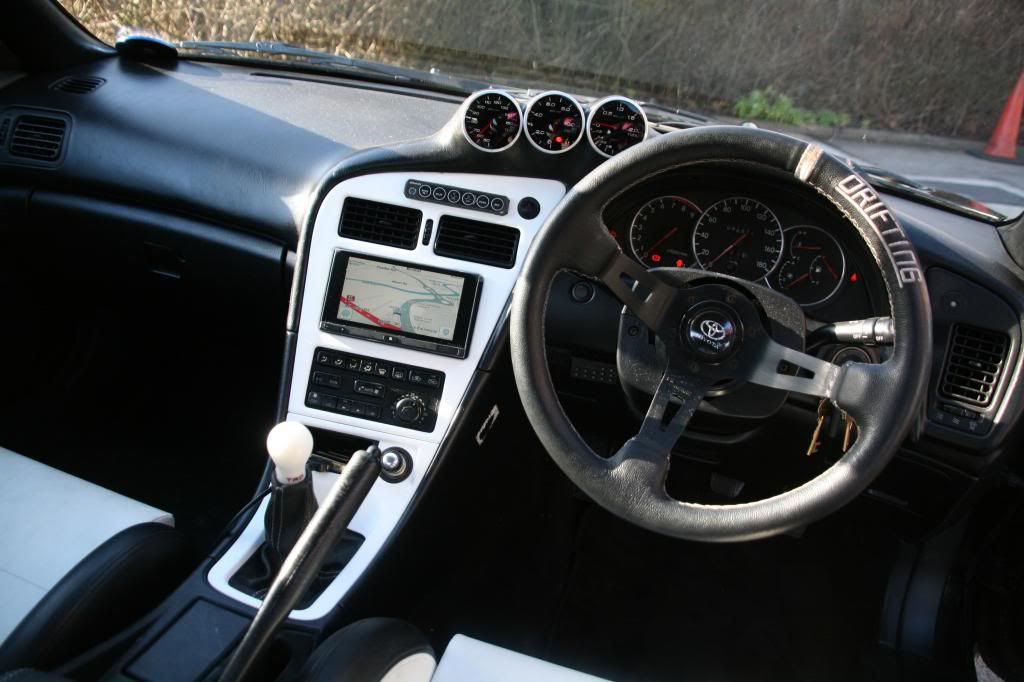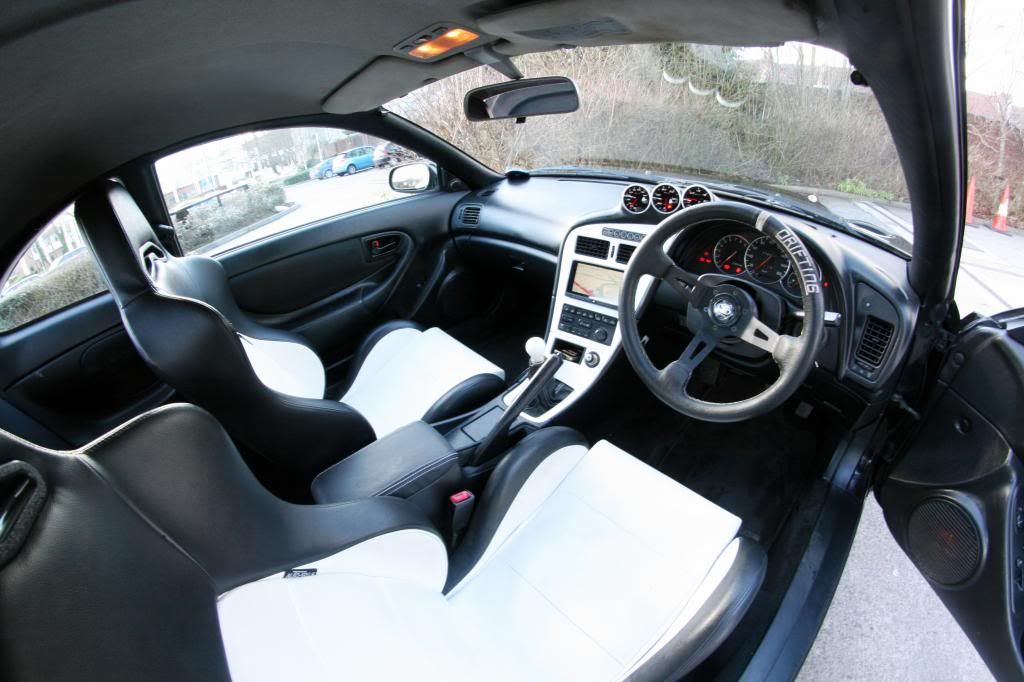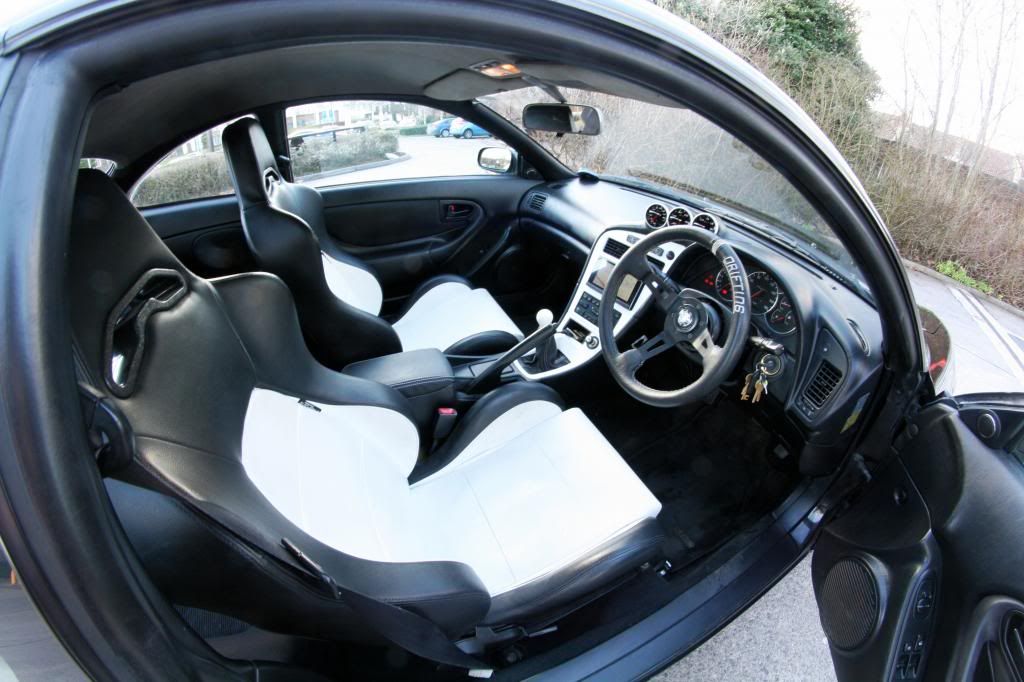 A while ago I won a new RT-Performance triangular rear brace on GT4bay for a bargain £40, have had it sitting around for ages so decided to get on and fit it. It took a little adjustment to the mounting holes with a drill to fit but seems a decent product.

I like to try and make things look like they are factory fitted if I can, so I spent some time delicately removing some of the metal from the end brackets with the angle grinder to allow the original plastic end caps to be refitted. I also re-fitted the standard leatherette strut brace cover which I stitched together underneith with small cable ties as the zip won't do up due to the triangulation of the brace. Really happy with the result it looks great, sometimes I think its really worth spending a bit more time on these things for a decent finish. Also I wasn't expecting to notice any handling difference with the new brace at all, but I swear the car feels more planted in corners.




Handling wise she feels great now, the only other item that could be upgraded would be the bushes which are still stock. I don't seem to have any faults with the stock bushes, but I expect I will fit a full polybush kit in the future to see if it will tighten the handling even more.

Also a pic of the engine currently after lagging the top intercooler pipe, I plan on doing the manifold when I can get some better clips as I cant seem to get the metal cable ties to tighten fully.




Myself and my mate Louis who has a white ST205 got a bit carried away and went all the way up to Scotland to pick this up as it was too cheap to miss considering the bits on it - the JSP promo ST205: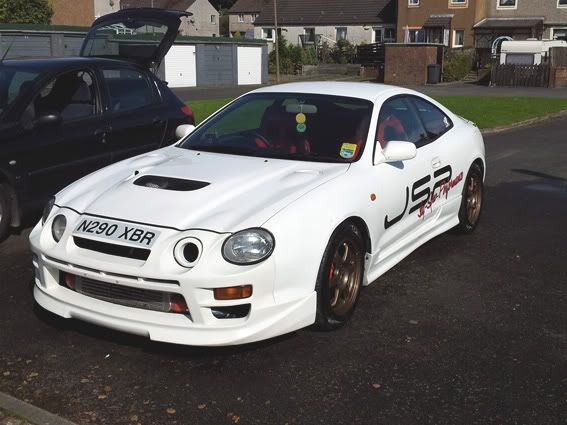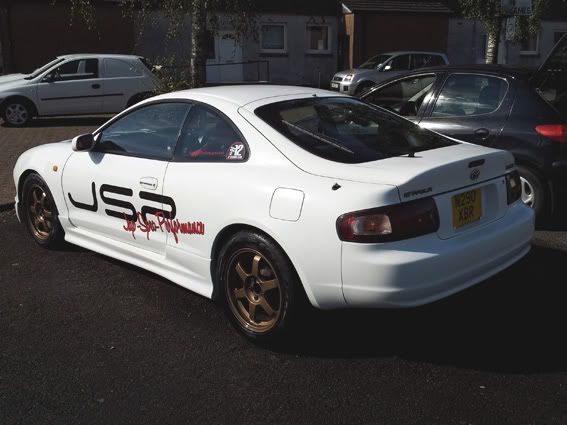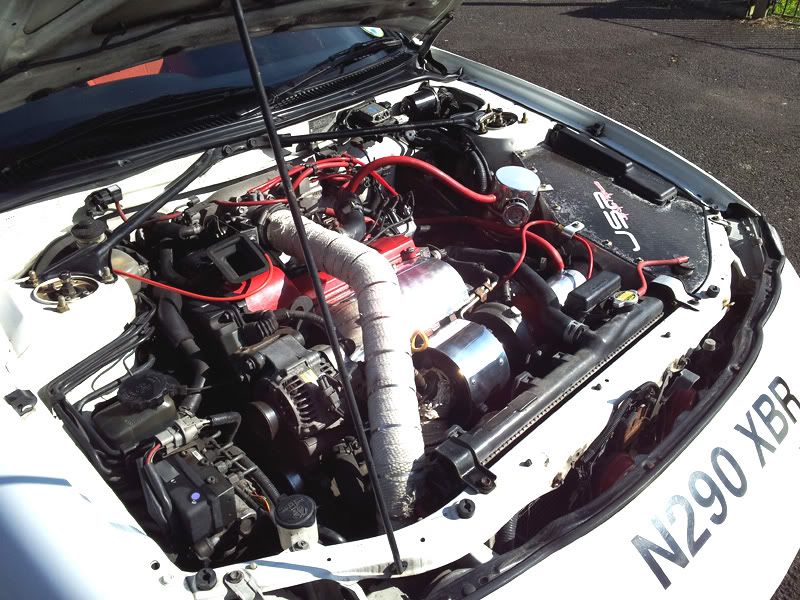 The reason for buying this was simply as we both wanted various parts off it. The car won't be getting broken, it is just getting some of the parts exchanged for standard or lower spec and the stickers etc taken off, then it will be resold (so if your interested send me a PM!). The main bits I am having for mine is the C-One bumper and Eurou side skirts, among various other bits and pieces like the short shifter and shifter bushes.

Have taken the wheels and BC coilovers off and fitted both on Louis' car, also removed the front bumper and skirts and replaced with a stock white bumper. The bits are now off at my mates body shop getting sprayed up and a few adjustments before I fit to mine.

Was a nightmare getting the skirts off due to being fully bonded on, took me ages with a heat gun and scrapper to split then from the car without damage. Now the JSP car will need quite a bit of time spending on it to remove all the remaining silicone and tidy it up.




I also tried out a couple of header tanks I've picked up on the breaker to see which was better suited.

Focus RS tank: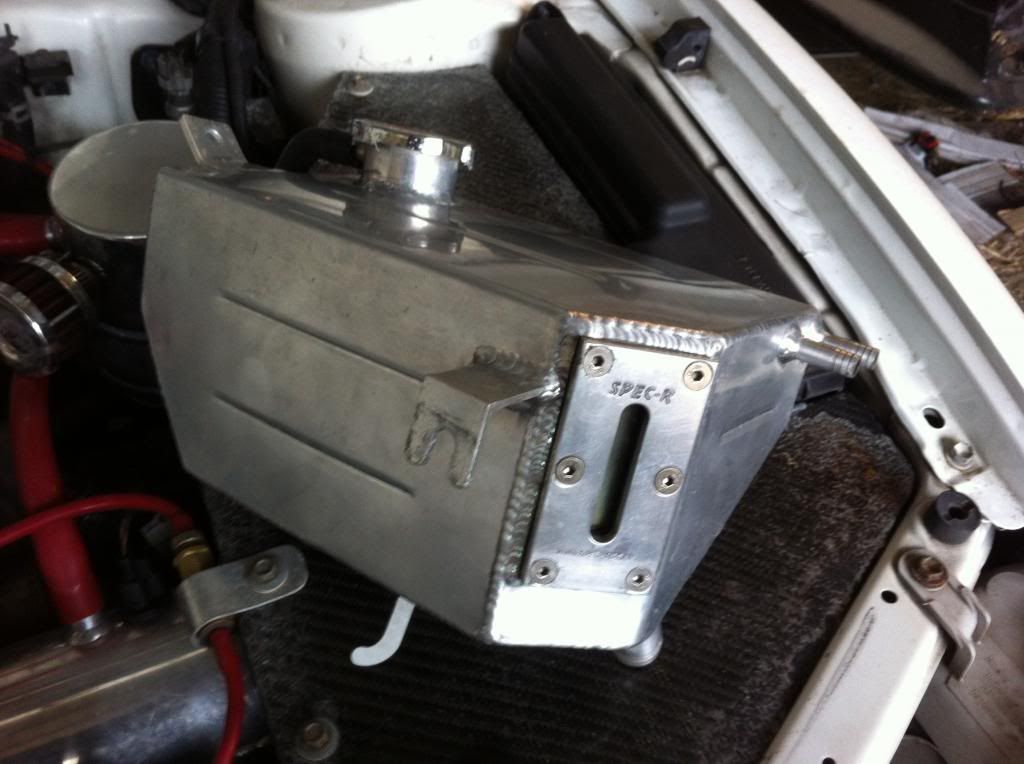 Escort RS Turbo tank: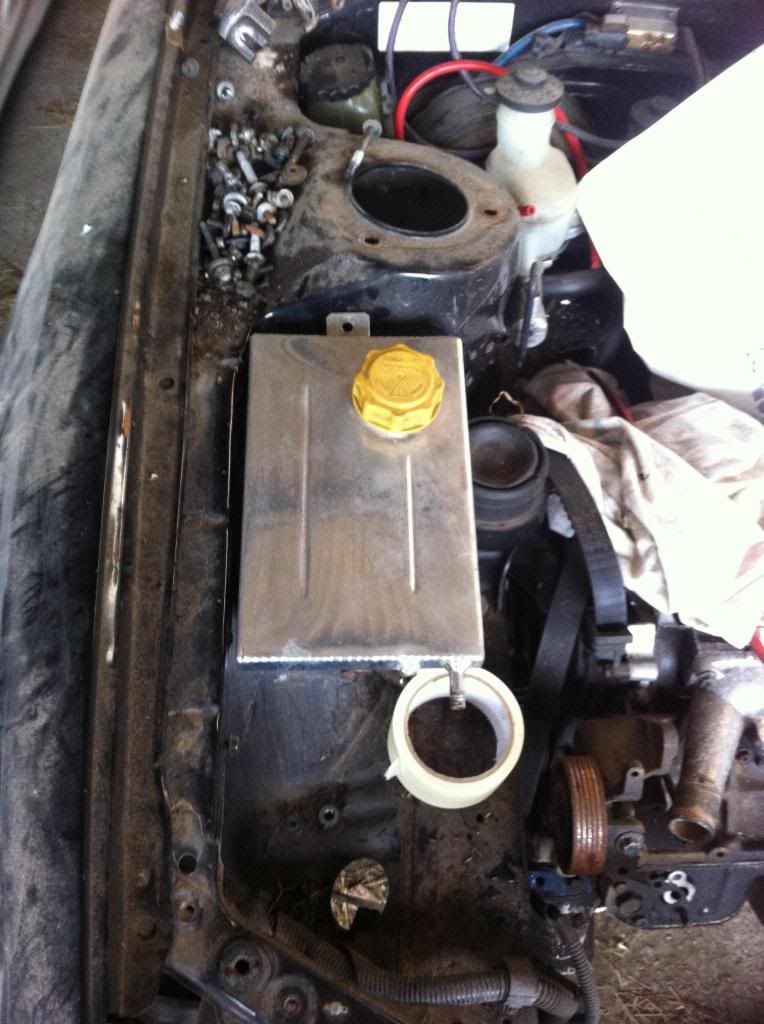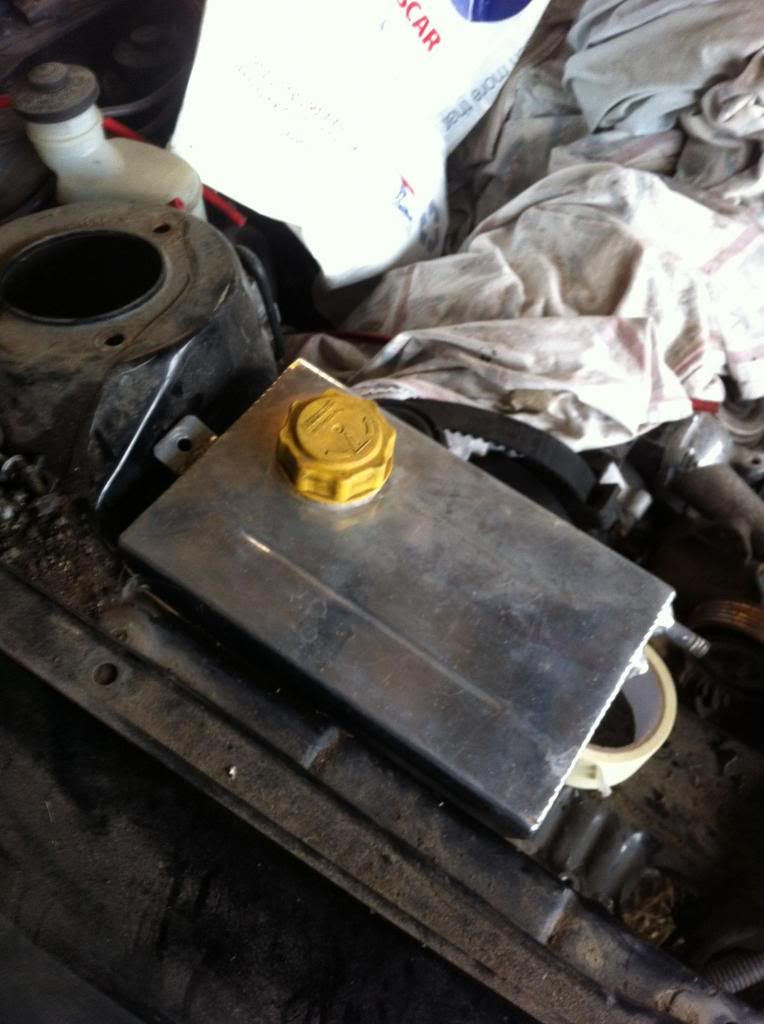 The Focus tank is larger and better quality, it has a rad cap type filler with overflow which I would think is preferable, also one of the standard mounting points looks like it can be used directly as shown. It does however clash with the wheel arch slightly and would ideally want the corner cutting off and re-welding to allow it to sit a little lower and maybe a bit further back. there would probably be sufficient space behind it to keep the power steering reservoir in a similar location to standard. It also has a site glass for seeing the level of fluid.

The Escort tank is a bit smaller, but the shape of it means it would sit further back by the suspension turret, as a result the power steering reservoir would nee to be relocated in front of the tank. Quality is not as nice as the focus tank but this tank would need less work to fit, only needing a second nipple welded back onto the front where it has previously been blanked off.

I also managed to pick up a cheap set of 18's in a good fitment for £200 delivered, I plan on refurbing them completely in white and loosing the exposed metal rim before fitting, but they are actually in pretty good order and I quite like them, they also seem pretty light. I have no idea what they are, something Japanese - anyone have a clue?




Lots of small bits of faffing, thats about it for now..............